This blog reviews GoAnywhere's free version including a feature breakdown, services, resources and advice from a GoAnywhere expert.
As well as providing an evaluation licence, every new account created in the GoAnywhere portal https://my.goanywhere.com also receives a 'Free' licence. This licence allows for a very basic implementation of the GoAnywhere product that can be used for up to one year.

The first thing to notice is that the licence is quite restrictive in what you can do, for example, see the following screenshot of the licence screen: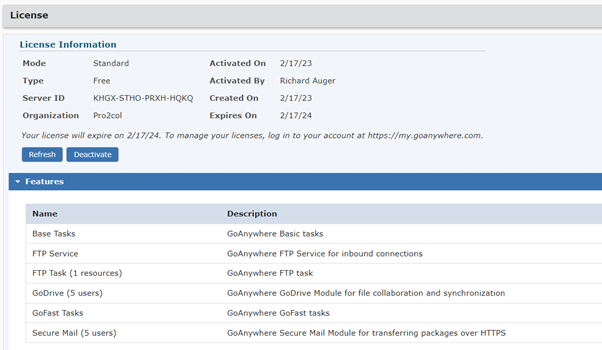 Let's look at each of these components individually.
Services
These have been quite heavily restricted in the free version. Basically, you can have a plain (non-secure) FTP service and a HTTPS service. The HTTPS service allows you to send secure mails and to make use of GoDrive to share or synchronise files – licences for five users are included for each. However, you cannot use standard HTTPS secure folders.
Resources
The resources that you can create inside GoAnywhere define service endpoints that you can connect to from workflows. Most resource types are available in the free versions, however you are prevented from creating database, SSH/SFTP, ICAP, REST and FTPS resources. The resources, where applicable, may still be added as virtual folders into a user's home folder.
Workflows
You can create as many basic tasks (no advanced workflows) as you wish. As noted previously, workflows are dependent upon resources, and some of these are restricted. If you need to (for example) just move files between blob and network, then this should not present a problem. You can also create flows to perform some of the more complicated workflows like downloading attachments from a mailbox, although PGP, compression and data transformation are not available.
Users
Users are restricted in as much as being unable to use the secure folders function of GoAnywhere, even though the option is there to allow it. In fact, there are several options that you can select when creating a user that simply don't work on the free edition – I've highlighted below those options that DO work; for the rest, your selection will be ignored.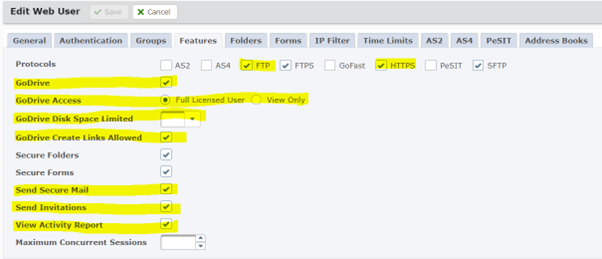 When you sign in as a web user, the view is much the same as on a paid edition of GoAnywhere. You can change the branding just as you would with a regular install.

You can still send out files via secure mail, including requesting for file to be sent to you. As an end user you can also keep track of what you have done using the activity report.
User templates and groups are fully available to you, as well as external authentication methods. (LDAP and SAML)
Feature Breakdown
This table shows what is and what is not available in the free edition:
| | |
| --- | --- |
| Included | Not Included |
| Scheduler for running Projects (workflows) | ICAP Tasks |
| Folder Monitors for running Projects | REST Task / Connector Integration |
| Control Logic (If, Else, Loops, Delay, Call/Exit Modules and Projects, Raise Errors) | SFTP, SCP, FTPS, and HTTPS Clients |
| Files and Folders (Copy/Move/Rename/ Merge/Delete/List/Make Dir/ Search-Replace) | Data Transformation (CSV, Fixed-width, XML, Excel) |
| Misc (Workspaces, Deny Trigger, Close RowSet, Get Timestamp, Print to Joblog | Database Integration (SQL) |
| Send/Retrieve Email | ZIP, GZIP, and TAR compression/decompression |
| FTP Clients | Number of partners to connect to when transferring files |
| 5 Secure Mail Users | OpenPGP encryption and decryption |
| 5 GoDrive Users | Advanced Reporting |
Summary
The free licence falls into the category of 'tactical solution'; I can foresee many use cases where it would be sufficient to run with for a few months while either testing or else looking for functionality while waiting for a more strategic solution to be implemented. Any workflows that you create in the free product can be directly migrated into a licenced GoAnywhere instance, so effectively the only cost would be the host that GoAnywhere is running on (which by the way, is not restricted to Windows).