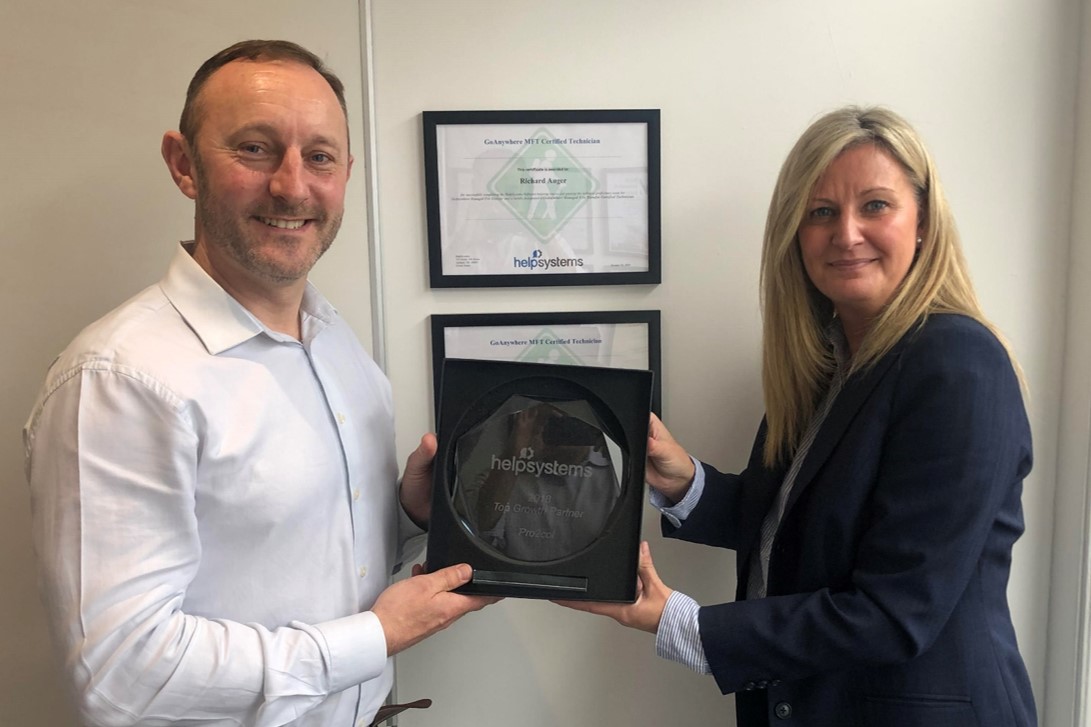 HelpSystems have celebrated Pro2col's 'remarkable commitment' with a Top Partner 2018 award. It follows an outstanding year during which Pro2col exceeded HelpSystems' UK sales target, and made a significant contribution to international sales too.
"It gives me great pleasure to congratulate Pro2col as winners of our Top Growth Partner award. Pro2col have demonstrated a remarkable commitment to advancing sales of HelpSystems' solutions around the globe."
Melissa O'Leary, EMEA North Partner Manager
During 2018 Pro2col were promoted to GoAnywhere Platinum Certified Partner status – the highest possible accreditation – and three technical consultants became GoAnywhere MFT certified technicians. The year also saw a number of large enterprises choose Pro2col for their GoAnywhere MFT requirements.
Pro2col Managing Director James Lewis, pictured above with Melissa, said: "Larger enterprises choose Pro2col because we have an established reputation as trusted, independent experts in Managed File Transfer. Our expertise and knowledge of the whole marketplace allows us to identify the best solution for their needs and we pride ourselves on our honest and independent approach."
As well as identifying the right solution for each businesses' unique requirements, Pro2col also deliver personalised professional services and consultancy. From proof of concept to installation, training and health checks, technical consultants have the expertise and product knowledge to support any stage of an MFT project.
"I would like to thank the Pro2col team for all that they do," said Melissa. "I have thoroughly enjoyed working with them and watching them grow."
Pro2col have delivered over 800 file transfer solutions to businesses inside and outside of the UK. Specialising in GoAnywhere (previously Linoma software) since 2014, we are Platinum Partners. Pro2col technical consultants have identified, delivered and supported solutions for companies from a wide range of industries. Our pre-sales and post-sales teams have achieved the highest level of certification.